Gmolding is a professional plastic mould suppliers. We ensure that one high quality molds or precise plastic parts start from a great mold design and mold precision.Grandshine's Engineers pay more attention to plastic mold construction, injection gates, runners, cooling channels and mechanisms to ensure the best design solution be used for molds. We use 2D & 3D software to proceed the CAD / CAM processes, we need the 3D drawings for making the mold according to the structure of plastic parts and the 2D drawings to specify the dimensions & tolerances of the molded parts.We work with customers closely and provide optimized proposal such as mold steel, mold design,products structures,raw materials selection etc.Customers can provide ProE Part File; STEP;IGES file format for the 3D part file; and DWG; DXF or SLDDRW file formats for the 2D drawings.All molds are carefully designed to maximize its mold's life and easy to maintenance, all molds are made economically and functionality to meet customer's expectations.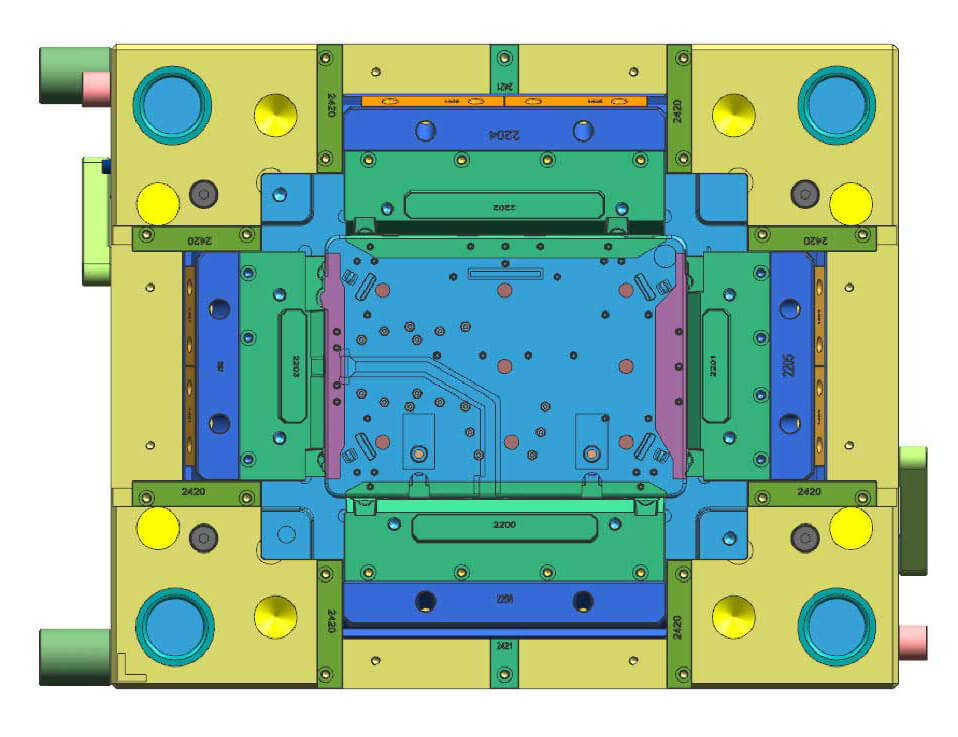 DFM Report
Design for manufacturing (DFM) evaluation report have to be carried both internally and with customers.Our engineers team will ensure that there is no undercut on the part;no interference on mold actions, sufficient draft angle for the surface textures or part ejection. Best proposal of injection gate location;gate type;gate section area for the part,parting line and well balance on the runner for Multi-Cavity mold;water cooling and its location,heat transfer is enough that the mold temperature on the Cavity side and Core sides should be as even as possible and make sure that no conservation of heat partially on the cavities or cores.3D mold layout and DFM reports will be provided and need to be authorized by customer before steel cutting.
Moldflow Anaylsis
Grandshine Molud design Engineers use Mold Flow for analysis of the gate best position and figure out mold defects that may exist in advance. Moldflow provides definitive results for flow, cooling efficiency, and warpage along with support for specialized molding processes. It can help you save your cost on plastic injection mold testing and modification and help to identify whether there is an shrinkage. We usually conduct Mold Flow to avoid any errors of mold construction and optimised design.
Mould Making plastic mould suppliers
We carry out professional manufacturing activities related to Plastic Mould,the mold tool rooms is equipped to manufacture custom molds and machined steel parts in house. we apabilities of producing high precision multi- cavity injection moulding tools ranging from small and medium sizes to large size tools around 25-35 days depends on the complexity of mold structure.Our mould manufacture service include: Shuttle and insert moulds, Expandable and interchangeable moulds,Multiple slide moulds,hot runner system mould,unscrewing moulds,over-moulds,co-moulds,double injection moulds,silicone rubber molds, die-casting mould and punching moulds. We can manufacture 60+ sets of molds per month and our molds can pass HASCO and DME standard.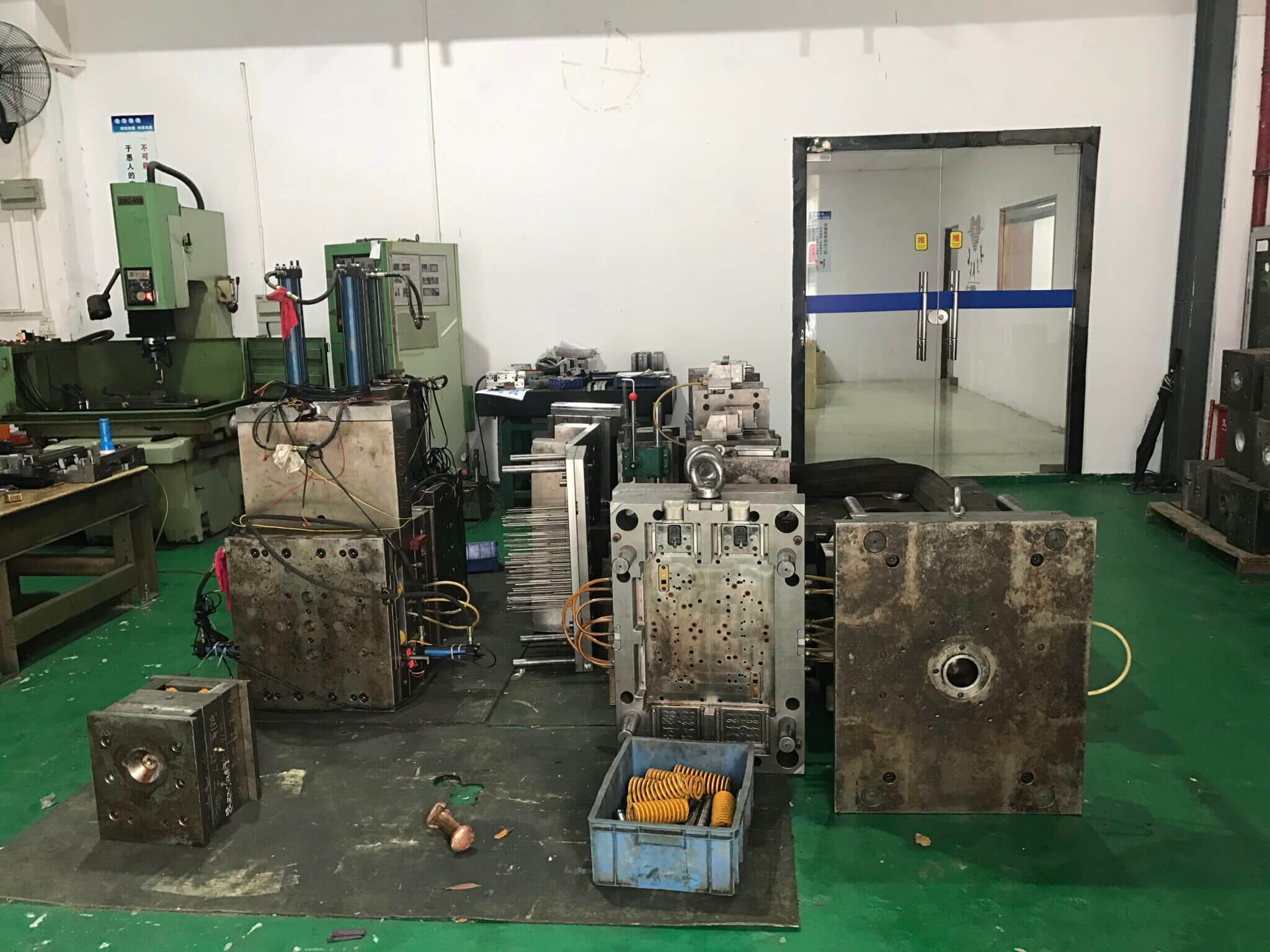 Mold making process include mold design, steel proparation,rought machine,precision machine,fitting and mold trail.
1) Mold design:Good mold design is very important. Our engineers team will work closely with customers to finalize mold design: details include mold size, gating way, parting line, ejection way, cavities layout, mechanical design, accessories used, steel of each component used, etc. A complete mold design would take 3-5 days.We will send mold design layout in 3D format to customers confirm before next step.
2)Mold base,steel and accessories preparation : Mold base and steel supply is very stable in our factory, we can get steel material supply within 2 days after design be confirm from customers.Mold steel we frequently used:1.2344, 12343, S136, LKM2316, LKM738H, 1.2083, 1.2312, 1.1730, H13, P20, MOLDMAX-HH.
3)Rough machine :The steel need first to be sized, milling, drilling, lather are the main process way to get the rough shape or the cavity /core. Normally 0.15-0.3 mm steel left for precision machining later.
4)Heat treatment: After rough machining, internal stress would be created during machining, do heat treatment to get certain hardness and internal balance, such as 1.2343, 1.2344, it usually need to be harden to HRC40+, some of the steel don't need it, like P20, 1.2312 etc.
5)CNC precision machining : Computer Numerical Control Machining & Computer Aided Manufacturing.After receiving the checked program files and printed copy from CNC Programming Section, get the assigned Steel, Copper and Mold Base from the Warehouse; Milling Section or Grounding Section then will start the proper processing.
After mounting the Steel; Copper or Mold Base onto the CNC Machining Centre or CNC Machine, calibrate the related co-ordinates, seting the Datum.Loading the related program to the machine and double check all the information, such as Mold Number; Steel Insert Number or Copper Electrode Number.This is to be sure that all the parts and accessories in house are having their own marking numbers and all of them are traceable.
After machining is complete, Parts and Accessories will be sent to QC Department to inspect the critical dimensions before being released to EDM and / or Wire Cutting Sections for further processing.
6) Wire cut and EDM:Wire cut is a process specially for holes (ejector pin holes, lifters, inserts), EDM is particularly for some of the area that can't not be machined by normal way, either too small to allow the cutting tool work properly, or it's too narrow to get there.Injection mold trial running
7) Fitting and assembly:Fitting and Assembling Section is responsible for the final completion of the mold,all the Cavity & Core Inserts; Slides & Lifters; Parts & Accessories; Screws & Pins and other components must be fitted and assembled by the technicians of this section. They reflect the ability; capability; quality of the mold manufacturing and represent the reputation of the company.
8) Mold trial:After mold assembly, our engineer team will to mold trial on injection machine. We will produce T1 samples to evaluate mold status and products' details. If T1 is not good enough, we will do mold tiny modify to makre sure mold in perfect condition before shipment. Then we will make T2 samples to customers reviews.After T2 or T3 samples been confirmed by customer, we can finish whole mold project and arrange shipment.
Grandshine is one of professional Plastic Injection mould maker. We have 20 years rich experience building plastic injection moulds and providing end-to-end tooling solutions for various range of industries,includes plastic injection molds for automotive,comsumer electronic, smartphone accessories,tablet accessories,retail payment brackets,medication, lighting, sport equipment, home appliance, and agriculture.The plastic resin we selected covers TPU,ABS, PC, PP, PA, PMMA, POM, PE etc. We have advanced and sophisticated high precision machines, which enables us to make close tolerance injection moulds under shorter lead-times. G-molding is able to provide a full range of solutions to reduce your budget with good quality for special projects.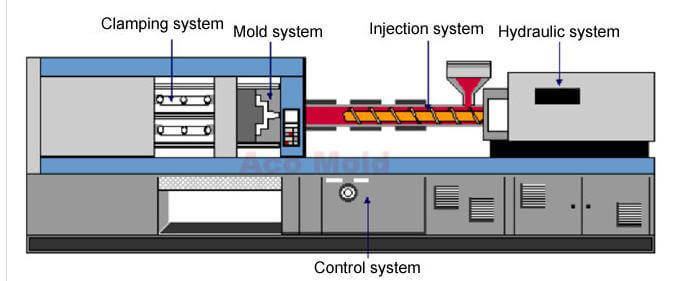 Currently we have 100 experiened mold makers engineers, most of the them have 10years experience in plastic injection molding industry,most of them learn from Japanese mold factory and Taiwan mold factory.We are able to provide 40-60 sets of injection molds per month.We introduce latest technology continuously and equipped the most advanced mold manufacturing facilities, we have full in-house plastic injection mold manufacturing, injection molding, painting, assembly capacity, our equipment includes but not limited to: 6 sets of CNC, precision 0.005mm; 16 sets of EDM, 9 sets of slow wire cut, 25 sets injection molding machines range from 120 Ton to 800Ton.We have experience to manufacure plastic part for Tesla car.
Grandshine G-molding has more than 20 yeas experience of overmolding. We are chinese top 10 experts in overmold fild in China. All our overmolding products have perfect performance and will not shutt-off and the joint of the two materials is very smooth.Our overmolding plastics products were applied in United Airline service device,Samsung retail device and Square payment devices etc. Overmolding is also called 2 times injection molding,it means to apply one material onto another material. Here two color pistol grip, utilizes TPU injected onto PC material.Two types material should form a bond and offer functional performance.Compared with the third-party material bonding, overmolding process makes the process faster and more cost-effective, it has been widely employed in plastic design.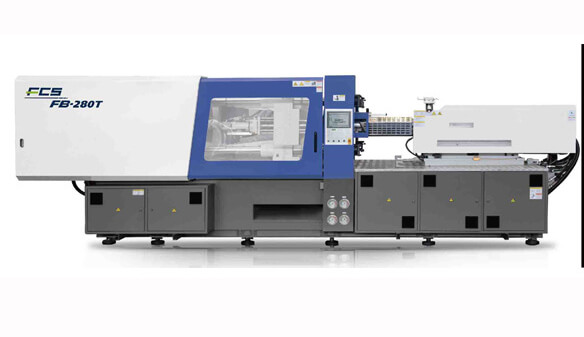 Regarding over molding mold design,we must take shrinkage into consideration due to two different plastic materials.Two material both have their own injection gate and runner systems. And the wall thickness of over mold should be as uniform as possible in order to have the shortest cycle time. In the range from 0.7mm to 2mm will ensure very good bonding of two materials in most over molded applications. But if final part requires the use of thick, then they should be cored out to manimize shrinkage problem and to reduce the part weight and cycle time.
Insert Molding is a thermoplastic material or stock under pressure for products with mold the molding method. In the plastic molding process of molten (softening) under temperature (below the melting point at least 10-20 ℃). Solid-phase forming. Including plastic of non-crystalline class above the glass transition temperature. A melting point below the high elastic area processing is often called thermoforming. And below the glass transition temperature is called cold forming or room temperature molding processing. Also often called cold working methods or room temperature plasticity of plastic processing.
The method has the following advantages: short production cycle. Improve the toughness and strength of products. Simple equipment can produce large and super large products. Cost reduction. The defect is: hard to produce complex shapes. The precision of products. It is difficult to control the production process. The products easy to be out of shape, craze.
Mold Base LKM, HASCO, DME or your requirement
Mold Material 45#, P20, H13, 718, 1.2344, 1.2738 and so on
Standard HASCO, DME, MISUMI, PUNCH and so on
Product Material PC/ABS, ABS, PC, PVC, PA66, POM or other you want
Runner Cold/Hot Runner
Gate Type Side gate, Sub gate, Pin point gate, Edge gate etc
Mould Weight 50kg-15Ton
Injection Machine Type 80-1500Ton
Standard for Product Appearance for graining MT(Mold Tech), YS, HN Series
The Way of Color Contrast for Plastic RAL PANTONE
Certificated ISO 9001:2015 Certificated
We have mould designing and production for silicone rubber mould. We are able to custom silicone product moulds for our customers. We have strict QC process and all silicone raw material has passed Rohs and FDA certificates. Our machines are examined and updated regularly. Our workers will be strictly trained before operating. Our QC team do 100% IQC IPQC and FQC from raw material to final products. Grandshine concerns on environmental protection and safety in production. There are systematic and meticulous guidelines in the treatment of possible pollutants discharged.We are setting up a green, eco-friendly and harmonious factory.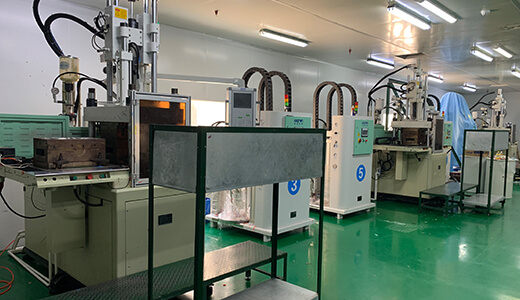 Our silicone products mold cover:1)Home&kitchen silicone products like silicone soap mold,silicone baking mold,siicone cooling tools,silicone cup cover,silicone stress relievery toys,silicone water bottle,silicone coffe cup,silicone Kitchen Strainer Basket;2)Silicone outdoor products: silicone travel cup,silicone travel keychain,silicone makeup facial cleaning brush,silicone resistance loop;silicone night light 3)Silicone protective case: silicone iphone case, silicone ipad case, silicone tablet rugged cases, silicone airpod cases,and luxury liquid silicone phone cases.We have long term-cooperation customers from more than 60 countries around the world.Your OEM and ODM molds for silicone products is warmly welcomed.
Die-Casting&Punching Mould
We have cooperated Die casting and punching mold factory who focusing on providing with all kind of Stamping Parts,Sheet Metal Parts and Sheet Metal Fabricating Service. It has Japan's advanced CNC sheet metal processing equipment, professional silk screen equipment and independent painting workshops and other professional equipment and facilities.Our product quality has been recognized by customers, which has formed a good reputation in the industry. We have Equipment list as:
Material
Carbon steel, SPCC, SGCC, Stainless steel, Aluminum, Brass, Copper, etc.
Processing
Laser Cutting, Precision Stamping, Bending, CNC Punching, Threading, Riveting, Drilling, Welding etc
Surface Treatment
Brushing, Polishing, Anodizing, Powder Coating, Plating, Silkscreen printing, Sandblast, etc
Tolerance
+/-0.2mm, 100% QC quality inspection before delivery, can provide quality inspection form
Logo
Silk print, Laser marking.
Size
Accept custom size.
Color
White, black,silver, red, grey, Pantone and RAL, etc
Drawing format
DWG, DXF, STEP, IGS, 3DS, STL, SKP, AI,PDF, JPG, Draft.
Sample
lead time
No surface treatment, 1-3 workdays.
Require surface treatment, 3-5 workdays.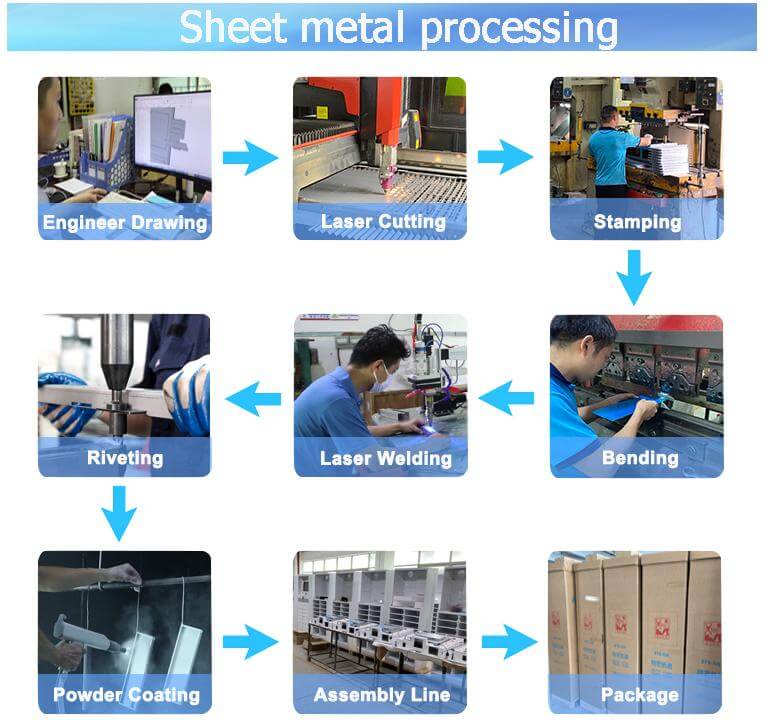 We carry out Prototyping during various phases of each project. Thus maximum possible efficient development is ensured. Rapid Prototyping involves getting mock-ups of the product. This is then reviewed evaluated and refined until the best quality product is achieved.
Prototyping gives the opportunity to get a clear idea of aesthetics, beside allowing one to touch, feel, and get a sense of its strength and size. Prototypes are essential to understand the ergonomic aspects of the product.
Visual Appearance Models
Allow our team to understand the design intent, use techniques of simulation & prototyping in terms of Colour Material Finish.
Functional Prototypes
Using advanced Rapid prototyping techniques like (SLA), (SLS), (CNC machining) to create accurate prototypes be it for aesthetic evaluation, fit and function testing or simply for design verification. We also create early evaluation mock-ups using Foam, POP, and Styro-foam and Ciba wood.
CNC Machined Prototypes
This precision machining enables form fitting and functional testing in the early stage of product development with a wide selection of engineering thermoplastics and digital materials simulating different mechanical properties of final products.
Silicone Mold & Vacuum Casted Parts
If you need a small quantity of plastic pieces with the quality of injection moulded components, Vacuum Casting at Materialise might be exactly what you are looking for.